Lemur population 'on brink of extinction'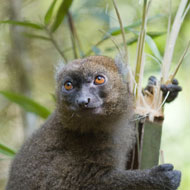 Experts implementing major action plan for lemur conservation

Ninety-five per cent of the world's lemur population is 'on the brink of extinction', according to leading primate conservationists.

Experts attending the IUCN Lemur Workshop in Madagascar concluded that out of 111 lemur species, 105 are critically endangered, endangered or vulnerable. The group is now working together to implement a major action plan for lemur conservation.

Big-eyed and charismatic, lemurs have lived on the island of Madagascar for more than 400 million years. But illegal logging, charcoal production and mining have destroyed their natural habitat. New research also shows they are threatened by hunting and live capture for pets.

Experts say that a possible lemur extinction could have a knock-on effect on Madagascar's ecosystem. Large-seeded plants, which are key to the health of the island's forests - could be at risk of extinction because lemurs spread their seeds.

A lemur extinction could also have a major impact on Madagascar's tourist trade, experts say. The island promotes the animal as its greatest asset and people travel from all over the world to see them.

Among the species of lemur raised from Endangered to Critically Endangered are the Indri lemur, Madame Berth's mouse lemur and the striking blue-eyed black lemur.

The workshop was attended by 50 primate experts from across the globe, including representatives from Global Wildlife Conservation, the Bristol Zoological Society and IUCN's SOS Programme.