Fresh insights into guinea pig social behaviour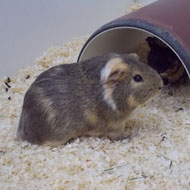 Females risk confrontation outside of fertile periods

New research has shed light on how a female guinea pig's sexual cycle could impact their social behaviour.

Guinea pigs use their intuition to decide whether to compete or escape, in order to maintain a hierarchy in which dominant animals take advantage.

Researchers from the University of Vienna analysed social behaviours and hormone levels to find out the effect of the oestrus cycle during encounters between females.

They found that females tended to flee from each other during fertile periods, but otherwise would risk confrontation. In animals that were not ready to mate, the stress hormone level increased and physical contact between the two females was more frequent.

There has so far been limited research on how the sexual cycle may shape female social behaviour in animals.

Lead author Lisa-Maria Glenk, commented: "These rodents live in social hierarchies, similar to many other mammals. Such hierarchies are established through confrontations between conspecifics.
"Animals with a good intuition of when to compete or withdraw are more successful and better integrated."
Photo © Lisa Glenk/Vetmeduni Vienna