UK pig sector halves antibiotic use in two years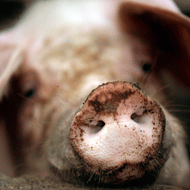 Report highlights collaborative effort to address AMR
The UK pig industry has more than halved its antibiotic use in two years, according to a report published by the National Pig Association (NPA).

Figures published in the latest Pig Industry Antibiotic Stewardship Programme show the sector is on course to meet its target of reducing usage to 99mg/PCU by 2020.

The figures also show that usage of the Highest Priority Critically Important Antibiotics (cephalosporins, fluoroquinolones and colistin) represented just 0.08 per cent of total antibiotic use in pigs in 2017.

"The progress made in the two years since has been nothing short of staggering," said NPA senior policy advisor Georgina Crayford. "That is testament to the way all parts of the industry have come together to, first accept, then rise to the challenge – this is a truly collaborative effort.

"Everybody understands that there is still much more to do. But after reading this report, it will become clear to everybody just how hard this industry is working to reduce and refine antibiotic use and improve overall pig health."

The Pig Industry Antibiotic Stewardship Programme illustrates how producers, vets, feed and pharmaceutical companies are working with Government to address the problem of antibiotic resistance. Compiled with members of the Pig Health and Welfare Council, it shows how farmers and vets are working together to improve biosecurity and disease control on farms.

The report is available online for interested stakeholders and will be sent to MPs that have expressed an interest in the subject.