VMD urged to overturn decision on flunixin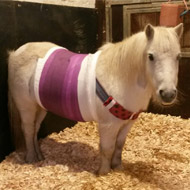 Product suspended over potential risk to humans

Leading equine veterinary association BEVA is urging the Veterinary Medicines Directorate (VMD) to overturn its decision to suspend the sale of flunixin.

Flunixin is a common analgesic used in horses with colic, as well as for those undergoing surgery and other conditions. On Thursday (26 July), the VMD suspended the product after the Committee for Medicinal Products for Veterinary Use (CVMP) said that a solvent in the injectable formulation - diethanolamine - could pose a risk to humans.

Now BEVA is calling on the VMD to overturn this decision in horses not destined for the human food chain, to reduce the potential impact on equine welfare. It argues that the decision had been made without warning or consultation with the veterinary profession.

"BEVA is fully supportive of all attempts to promote food safety, however, flunixin is widely viewed as the gold-standard painkiller in horses and is commonly used in horses undergoing both elective and emergency surgery, for the crippling pain associated with laminitis and for severe forms of colic," said BEVA president Jonathan Pycock.

"BEVA is calling on the VMD to immediately enable limited batch release of flunixin for use in horses not destined for the human food chain in the interests of animal welfare. The equine veterinary profession has always been open to consultation with the VMD on a range of important matters relating to responsible medicine use, antibiotic resistance, horse identification, passports and the horse meat issue.

"BEVA is perplexed as to why the VMD failed to consult with the equine veterinary industry on the animal welfare impact of withdrawing such an important drug."

Used widely throughout the veterinary industry, flunixin is the only medicine licensed for the treatment of sepsis. BEVA states that no recall notices have been issued and therefore veterinary surgeons may continue to prescribe medicines that are in stock.

A disruption to the supply chain, however, could lead to shortages of this medicine in clinical practic, it said.
Image (C) Redwings Horse Sanctuary