Cattle pesticides killing off dung beetles - study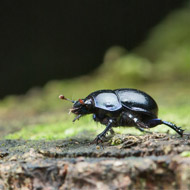 Damage could result in economic loss for farmers
The prolonged use of some pesticides to treat cattle for parasites is having a detrimental effect on dung beetles, according to new research.

The study, published in the journal Agriculture, Ecosystems & Environment, looked at 24 cattle farms across south-west England and found that farms that used certain pesticides had fewer species of dung beetle.

Study leader Dr Bryony Sands from the University of Bristol's School of Biological Sciences said: "Dung beetles recycle dung pats on pastures, bringing the nutrients back into the soil and ensuring the pastures are fertile.

"Damage to dung beetle populations is, therefore, concerning, and could result in economic loss for farmers."

The study is the first landscape-scale project to show that long-term use of the pesticides has a negative impact on dung beetle populations on farms. Study co-author Professor Richard Wall first discovered 30 years ago that pesticide residues in dung could kill dung beetles.

Dr Sands added: "It is now clear that long-term use of these pesticides could cause declines in beetle biodiversity on a large scale."

The study also found that synthetic pyrethroids pesticides were not as damaging to dung beetles as macrocyclic lactone pesticides. In general, these pesticides are considered a safer alternative for farmers who want to protect biodiversity on their farms.

Researchers hope their findings will help to inform farmers about the negative impacts of the pesticides, some of which now carry warning labels.