New beef cattle housing guidance for farmers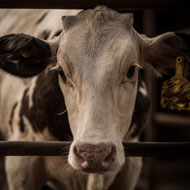 Booklet provides basic welfare, regulatory and environmental information
New guidelines for farmers on the importance of biosecurity in cattle housing have been published by the Scottish Government's Farm Advisory Service (FAS).

The Beef Cattle Housing booklet warns that cattle housed in poorly designed buildings are at risk of contracting disease if proper biosecurity measures are not met.

"This booklet is intended to provide basic welfare, regulatory and environmental information for farmers considering the erection of a new beef cattle shed and also provides links to sources of more detailed information," said Jim Campbell from SAC Consulting, which delivers the FAS.

The booklet urges farmers to wash-down areas for vehicles and footwear to prevent the spread of disease. These areas should be carefully located so that contaminated water does not come into contact with livestock, it says.

The booklet also covers regulatory approvals, services, ventilation, waste handling, location, choice of housing system, space requirements, materials and references.