Vets and doctors treat dog's rare brain malformation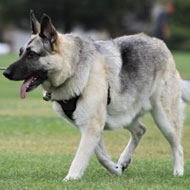 German shepherd suffered intracranial arteriovenous malformation

US vets have teamed up with human doctors to treat a type of brain malformation that is rarely seen in dogs.

Six-year-old German shepherd Crash had been suffering from lethargy, headache signs and disorientation. An MRI scan revealed he had an intracranial arteriovenous malformation (AVM) in his brain and behind his eyes.

AVMs are very uncommon in veterinary medicine and a brain AVM is rarer still.

Dr Bill Culp, from UC Davis veterinary hospital in California, said: "Because this condition occurs in human patients relatively more commonly, I was hopeful that we would be able to collaborate with physicians at UC Davis Health in order to treat Crash as successfully as possible."

Crash's arteries and veins were connecting abnormally in his head, meaning the blood came in through the artery and out through the vein too quickly, bypassing brain tissue and causing swelling.

Dr Culp worked with veterinary neurosurgeon Beverly Sturges and physicians Dr Brian Dahlin, who regularly treats AVMs in humans, and Dr Paul Dong. Together, the team performed an embolisation, which delivers a product to 'clot' or close the blood vessels in Crash's AVM, and redirect the blood flow.

After a short recovery time in the ICU, Crash was able to go home. An MRI after four months showed the embolisation was intact and Crash's condition was improving. He is no longer showing signs of headaches and the pressure on his eye sockets is gone.
Image courtesy of UC Davis