APHA names new veterinary director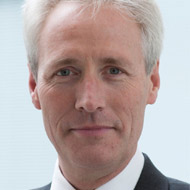 Andrew Soldan will succeed Simon Hall

The Animal and Plant Health Agency (APHA) has announced the appointment of Andrew Soldan as veterinary director.

Mr Soldan's appointment comes after former veterinary director Simon Hall transferred to the position of APHA director for EU Exit and Trade earlier this year.

Commenting on the appointment, Andrew said: "I'm delighted and honoured to be asked to take up the role of veterinary director. I look forward to the joys and challenges that this will bring and to working with many across the agency to help ensure we provide excellent veterinary and technical expertise to our customers and stakeholders."

Chris Hadkiss, chief executive for APHA, added: "Andrew brings with him a wealth of corporate knowledge about the agency and Defra, and a variety of experience from his roles leading the agency's commercial services (APHA Scientific), and in previous years, laboratory services.

"He also led the project for the launch of APHA when our plant and bee health teams moved from Fera to join the former Animal Health and Veterinary Laboratories Agency back in 2014."

Andrew joined the APHA in February 1999. His previous roles in the agency include head of APHA scientific, head of laboratory testing and international trade programme manager.

Before joining the agency, Andrew worked as a veterinary investigation officer in the former Ministry of Agriculture, Fisheries and Food, and as a private veterinary surgeon in Devon and York.

Andrew also spent five years as a veterinary officer in Malawi for the former Overseas Development Administration.
Image (C) DEFRA