Nominations open for 'Veterinary Nurse of the Year'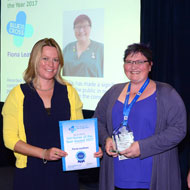 Awards recognise nurses who go the extra mile in their community

Blue Cross is seeking nominations for this year's 'Veterinary Nurse of the Year' award, which recognises the dedication and invaluable support veterinary nurses offer their teams.

Each year, the award is given to a nurse who not only cares for sick and injured pets, but also goes the extra mile to encourage responsible pet ownership in their community.

Last year's award went to Fiona Leathers from Bonnybridge, Falkirk, in recognition of her charity work and passion for helping pets.

David Catlow, the charity's director of veterinary clinical services said: "Blue Cross gives this annual award to recognise the commitment of vet nurses across the UK who work tirelessly to improve the lives of our pets. We are looking for vet nurses who really go that extra mile to support pet owners and have a significant impact on animal welfare."

This year's award will be presented at BVNA Congress in Telford, Shropshire, on 12-14 October.

You can nominate a veterinary nurse online via the Blue Cross website: https://www.bluecross.org.uk/vote-your-favourite-veterinary-nurse-2018

The deadline is Friday, 7 September 2018.
Image courtesy of Blue Cross