Smart litter tray to detect feline health problems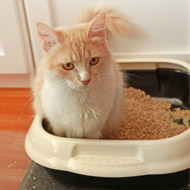 Sharp's Pet Care Monitor will go on sale in July
A Japanese electronics company is to begin selling a smart litter tray for cats that can detect health issues.

According to The Japan Times, Sharp's Pet Care Monitor can automatically measure urine data and the weight of the cat to monitor problems. If any problems are found, the monitor will send an alert to the owner's smartphone.

The product is Sharp's first product exclusively for pets and is scheduled to go on sale in July. It uses artificial intelligence and "internet of things" (IoT) technologies - the network of computing devices in everyday objects.

"Pets are now considered as part of the family and IoT technology has been used little in the pet market," Yoshisuke Hasegawa, a senior executive managing officer told Japan Times. "We joined the market with the aim of expanding our business and realising a 'smart' life."

The tray keeps track of cats' urine volume and frequency, weight and the amount of time spent on the toilet. If the tray detects any problems, such as the cat spending too much time going to the toilet, the device will send an alert to the owner's phone via an application called Cocoro pet.

If the owner has multiple cats, they can purchase a sensor that can be used together with the smart toilet for up to three cats.

The sensor will go on sale July 30 with a price tag of ¥24,800 ($226). A monthly fee of ¥324 will be charged for use of the smartphone app.