AMR: EU proposal to ban group use of prophylactics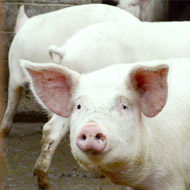 Industry bodies say plans are 'unnecessary' and could harm pigs
Pig vets and farmers have expressed 'extreme concern' over EU proposals to effectively ban the group use of prophylactic antibiotics.

In a letter to the UK's chief veterinary officer, the National Pig Association and Pig Veterinary Society said the plans are 'unnecessary' and could seriously impact pig health.

The proposal, which is currently in the final stages of negotiation in Brussels, states that antibiotic medicinal products for prophylaxis should be 'limited to the administration to individual animal only', in exceptional cases where the risk of infection is 'very high and the consequences are likely to be severe'.

Both organisations said they strongly believe it is sufficient to limit prophylactic use of antibiotics to an individual animal or a restricted number of animals under the above conditions.

Writing to CVO Christine Middlemiss, the NPA and PVS added that they fully support the idea that antimicrobials for metaphylaxis or prophylaxis should be prescribed for a limited period only, to cover the period of risk. They also agreed that such products should not be applied routinely or to make up for poor hygiene or animal husbandry, lack of care, or poor farm management.

However, they said it is 'absurd' to expect vets to wait for animals to show clinical signs before prescribing antibiotics, rather than preventing the whole group of pigs becoming sick, in situations where a pathogen is known to be present on the farm, presenting a high risk to pigs.

Their letter states: 'There is a widely held and justifiable belief, in both human and veterinary medicine, that controlled intervention to prevent the outbreak and spread of disease based on sound professional examination and advice is better than cure.'

They added: 'There are a number of circumstances where targeted prophylaxis is the best course of action to protect animal health and welfare and, given that pigs are housed in groups, population medicine requires that group prophylaxis is used in such circumstances.'

In addition, they raised concerns about the stress involved in individually injecting a number of pigs with antibiotics, as well as the increased risk of human error, which could lead to some pigs being missed or incorrect doses being given.