Captive dolphins 'anticipate' human interaction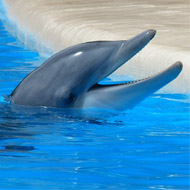 Study measures how captive dolphins feel about their environment
Dolphins in captivity look forward to spending time with humans and value interactions with people over toys, a new study has found.

The study, published in the journal Applied Animal Behaviour Science, analysed the behaviours displayed by captive dolphins before an upcoming event. The researchers found that dolphins showed more anticipatory behaviour before interacting with humans than they did with toys.

"Our results suggest that toys and Human-Animal Interactions were perceived as rewarding events, and we propose that non-food human interactions play an important role in these animals' lives," the researchers conclude.

The study took place at
Parc Astérix

- a theme park close to Paris containing one of the largest dolphinariums in France. Speaking to BBC News, lead researcher Dr Isabella Clegg said that she wanted to find out what activities in captivity dolphin like most.

Dr Clegg and her team used sound cues to condition the dolphins to the arrival of toys in their pool or a positive human-animal interaction with a familiar trainer. They measured the dolphin's anticipatory behaviour before each event.

"We found a really interesting result - all dolphins look forward most to interacting with a familiar human," Dr Clegg told BBC News. The animals displayed their excitement by surface looking and spy hopping (where the animal pokes its head out of the water).

The team also found that the dolphins would increase their activity level and spend more time around the edge of the pool.

"We've seen this same thing in other zoo animals and in farm animals," said Dr Clegg. "Better human-animal bonds equals better welfare."

The study is the first of its kind to show that anticipatory behaviour is related to the level of participation in the following event. Researchers hope the work will prompt further research to assess and improve the welfare of animals in captivity.