Biologists 'transfer' memory from one snail to another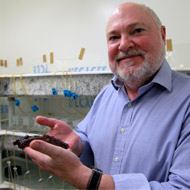 Research could lead to new ways to restore lost memories

Biologists at the University of California, Los Angeles, have used ribonucleic acid (RNA) to 'transfer' a memory from one marine snail to another.

The research is the first of its kind and it is hoped that it could lead to new ways to lessen the effects of Alzheimer's disease or post-traumatic stress disorder.

When snails are tapped, they withdraw back into their shell. Using mild electric shocks, researchers were able to enhance this withdrawal reflex, which the snails use to protect themselves from potential harm.

The researchers then extracted RNA from the shocked snails and injected it into snails that had not been shocked. Incredibly, these snails behaved as if they had themselves received the shocks. They displayed a defensive contraction that lasted on average 40 seconds.

"It's as though we transferred the memory," said senior author David Glanzman.

RNA is an essential molecule for the production of protein and is understood to be important in the regulation of cellular processes involved in development and disease.

Glanzman believes that RNA could be used to awaken and restore memories that have gone dormant in the early stages of Alzheimer's disease. He now wants to identify the specific kinds of RNA that can be used to transfer memories.

The study, RNA from trained aplysia can induce an epigenetic engram for long-term sensitization in untrained aplysia, is published in the journal eNeuro.
Image (C) Christelle Snow/UCLA