Top medal for dog who saved young boy's life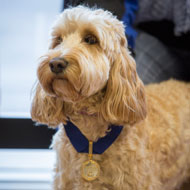 Teddy showed 'unwavering devotion' to family's son

Family dog Teddy has been awarded a PDSA Gold Medal after saving the life of a young boy who became trapped in a tumble dryer.

In November 2016, five-year-old Riley, who has Down's Syndrome, climbed into the family's tumble dryer and managed to start the drying cycle by pulling the door closed. His mother Gillian was upstairs at the time but Teddy's frantic barking and growling alerted her to the danger Riley was in.

Gillian says she quickly opened the door and dragged Riley out of the dryer, then began dousing him in cold water. Riley's father Aaron returned home and put him into a cold shower in an attempt to minimise the burns to his arms, back and head.

An ambulance car arrived within six minutes, followed by an ambulance, which took Riley to Ulster Hospital where he received treatments for bruises and burns. He has since gone on to make a full recovery.

Riley's father Aaron commented: "Teddy has always been a special dog – she's very intelligent, attentive and she loves the children, but I am totally in awe of how she acted that day. I know if Teddy hadn't have done what she did, we'd have been planning a funeral. We owe her everything and I'm so proud of her."

Three-year-old Teddy received her award during a special ceremony in Belfast, where she was accompanied by Aaron, Gillian and their four children.

Presenting the award, the PDSA's director general, Jan McLoughlin, said: "Had it not been for Teddy's actions, the incident could have proved fatal for Riley. She displayed unwavering devotion when she saw Riley in trouble and we are proud to recognise the actions of this very special little dog and the bond she shares with his family."


The PDSA Gold Medal was launched in 2002 as a way of recognising civilian animals who show life-saving bravery and exceptional devotion to duty. Teddy is its 27th recipient.
Image © PDSA