River pollution kills thousands of fish in Lincolnshire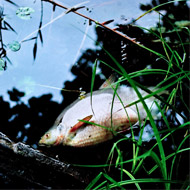 Environment Agency taking situation "very seriously"

More than 100,000 fish have died due to pollution in a Lincolnshire river, according to a statement issued by the environment agency.

In March, thousands of dead fish were spotted in the River Witham between Kirkstead Bridge and Barney Bridge. BBC News reports that high levels of ammonia were later detected in the river.

The Environment Agency told BBC News that it could not reveal the source of the contamination as it would "prejudice' its investigation.

"According to our latest estimates, the pollution that occurred in the River Witham in March has caused the death of no fewer than 100,000 fish. The exact figure is likely to be higher and could be several times this," it said in a statement.

The agency added that it was taking the incident "very seriously" and that it would be looking "to prosecute those who negligently damage our precious environment and wildlife".

"We will also be doing everything we can to ensure that the river's ecosystem is restored," it said.