Ketamine may help patients with depression - study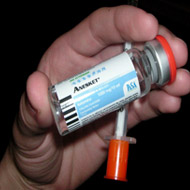 Medication might become available on the NHS

The anaesthetic drug ketamine may help to decrease suicidal feelings and depression, according to new research.

The study published in the American Journal of Psychology tested the effect of ketamine on patients rated at risk and in need of hospitalisation. It found that ketamine administered via a nasal spray, together with anti-depressant treatment, cut suicidal thoughts and depression in around four hours.

Researchers say the nasal spray did not exceed that of a placebo with antidepressent treatment at the end of the four-week trial. However, the effects of the spray were profound and similar to those achieved with intravenous ketamine. The spray is now going through phase three trials before it is approved for marketing.

Whilst the study does not report any misuse of ketamine, its authors warn that further research is required on the probable mistreatment of the drug. In recent years, ketamine has been used recreationally, prompting moves to control the substance under international law.

Dr James Stone from the Royal College of Psychiatrists told BBC News the study confirmed the findings from studies into intravenous ketamine that had been successful.

"The main reason for its significance is because this is being developed by a drug company and it's potentially quite likely that this medication might become available as a treatment available on the NHS for depression," he said.

Dr Stone added that because the ketamine was being administered as a nasal spray, it was "much easier to administer than intravenous ketamine" and "potentially quicker to give".
He said that if the drug was to go on to be prescribed on the NHS, it would be aimed at those with severe depression if other drugs had failed.

The study was conducted by scientists at Janssen Research and Development in New Jersey, a Johnson & Johnson company, and the Yale School of Medicine.