New protocol for outbreaks of CEM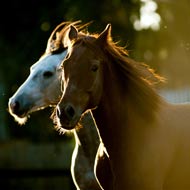 Highly contagious disease remains 'a very real threat'
A new protocol has been implemented for controlling future outbreaks of contagious equine metritis (CEM) in England, Scotland and Wales.

Suspected cases must still be reported to the APHA, but the owners of affected horses will now be able to use a private equine veterinary surgeon - who has been specifically approved to deal with the disease - without official movement restrictions being imposed.

This arrangement requires compliance with control measures outlined in the Horserace Betting Levy Board's code of practice for CEM. All associated costs will continue to be covered by the horse owner.

Taylorella equigenitalis, the bacterium that causes CEM, can be passed through natural mating and artificial insemination. It causes sub-fertility in affected mares and stallions can carry it without showing clinical signs, leading to chronic infection.

The new protocol was developed by the Equine Disease Coalition, which is chaired by World Horse Welfare and comprises representatives from the APHA, Animal Health Trust, BEVA, Defra and devolved administrations, Nottingham vet school, RSPCA and RVC.

BEVA chief executive David Mountford said: "Whilst occurrences of CEM are sporadic and we have not had any confirmed cases in the UK since 2012, it still presents a very real threat to our breeding industry.

"Ensuring cases are treated and managed by an approved veterinary surgeon, who is fully versed in the HBLB Code of Practice, guarantees that the appropriate provisions will be taken in order to safeguard our world class breeding population."

Professor Sidney Ricketts, joint veterinary adviser for the Thoroughbred Breeders Association, warned that while there have not been any UK cases for a number of years - largely because of compliance with the HBLB code of practice - infections are regularly found in many other countries.

"So there is a continued risk from carrier or infected mares or stallions being imported into the UK," he added. "The new control measures are a vital tool in helping manage this risk."

The AHT will have a central role in the protocol, co-ordinating activities undertaken by approved vets, receiving and collating reports, initiating tracing processes off affected premises and taking responsibility for epidemiological investigations.

Horse owners and laboratories should report suspected cases to the Defra Rural Services helpline, on 03000 200 310.