Charity reports rise in rats and mice at its centres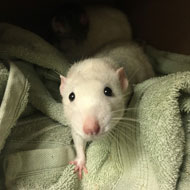 Would-be pet owners encouraged to consider adoption
Members of the public are being encouraged to consider adopting a pet rodent, as the RSPCA reveals a rising number of rats and mice are coming through its doors.

The charity took in 228 rats last year, compared to 204 in 2016 and 160 in 2015. Similarly, it took in 200 mice in 2017, 109 in 2016 and 147 in 2015.

Rabbit and rodent welfare expert, Dr Jane Tyson, said many people may not realise the charity rescues rodents as well as cats and dogs.

"Sadly, rats can sometimes carry a negative stereotype but actually they can make loving and affectionate pets," she explained. "They are fascinating and very intelligent animals and could make rewarding additions to a family.

"People don't realise that each rat has their own personality. They laugh when tickled, and studies have shown they show empathy with other rats and will try to help each other if trapped or in distress.

"There are many different species of rat across the world, and they have an incredible sense of smell. Some have even been trained to safely locate landmines in war zones so that they can be removed - they really are an extraordinary group of animals."

One pair of rats currently in the charity's care are Accordion and Tuba. They were part of a group of rats whose owner could no longer care for them. The playful pair are looking for a home with a large cage, providing lots of play and sleeping areas, including lots of toys, tunnels, hammocks and cosy beds.

The charity said they will need to be introduced slowly to being handled on a regular basis but are gaining confidence every day.

"We would urge anyone thinking of getting rats, mice or any other rodent species to check out the RSPCA's Find a Pet webpage to see if they can offer a rescue rodent a loving home," Dr Tyson added.
Image courtesy of the RSPCA