UK confirms ban on ivory sales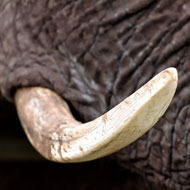 Country's ban will be 'one of the toughest in the world'
A UK ban on ivory sales will cover ivory of all ages, environment secretary Michael Gove has confirmed. Anyone breaching the ban will face an unlimited fine or up to five years in prison.

The move follows a government consultation that received more than 70,000 responses, of which 88 per cent were in favour of a ban.

Current law allows the trade of 'antique' ivory carved before 1947, but conservationists have long feared that the loophole is allowing illegal ivory to slip through the net.

Elephant populations have fallen by nearly a third in the past decade and around 20,000 are killed every year due to the global demand for ivory.

Mr Gove said: "Ivory should never be seen as a commodity for financial gain or a status symbol, so we will introduce one of the world's toughest bans on ivory sales to protect elephants for future generations.

"The ban on ivory sales we will bring into law will reaffirm the UK's global leadership on this critical issue, demonstrating our belief that the abhorrent ivory trade should become a thing of the past."

Some exemptions will apply to the ban, including:
items comprised of less than 10 per cent ivory by volume, that were made before 1947
musical instruments, with an ivory content of less than 20 per cent, that were made before 1975
rarest and most important items of their type. These must be at least 100 years old and their rarity and importance confirmed by specialist institutions
commercial activities to and between museums with appropriate accreditation.

Defra says the proposed UK ban would be among the toughest in the world. It has been broadly welcomed by conservation groups including the Tusk Trust, WWF, ZSL and Stop Ivory.

John Stephenson, CEO of Stop Ivory, commented: "This is a significant day for the future of elephants. The UK government has taken a momentous step. The proposed ban, with its narrow and clear exemptions, places the UK at the forefront of the international determination to halt the extermination of elephant populations by banning trade in ivory.

"The Secretary of State for DEFRA has shown clear leadership in demanding legislation whilst there is still time to secure a future for elephants in the wild."