Education key to fight against rabies, study suggests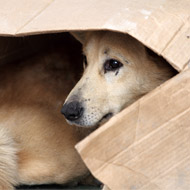 Lessons about the disease could significantly reduce deaths
Classroom-based lessons on rabies are essential in the fight against the disease, according to new research.

The study, published in PloS Neglected Tropical Diseases, investigated the impact of a rabies lesson on children in Malawi in conjunction with a rabies vaccination campaign. Researchers found that the children who received the rabies lesson had greater knowledge of the disease than those who had only been exposed to the vaccination campaign.

The study was led by scientists from the University of Edinburgh in partnership with Mission Rabies, an international NGO working to establish effective rabies control activities in Malawi.

"Our study demonstrates that one short lesson, which has now been delivered to over 900,000 children in Malawi, can significantly improve knowledge on how to safely interact with dogs and how children can protect themselves from acquiring rabies infections," commented Prof Richard Mellanby, head of companion animal sciences at Edinburgh's Royal (Dick) School of Veterinary Studies.

"We hope that this lesson, alongside our mass vaccination programme and disease surveillance activities will significantly reduce the number of deaths from rabies in humans and dogs. The partnership between the Mission Rabies charity and the University of Edinburgh is a powerful demonstration of the benefits of academics and NGOs working together to address important public health challenges."

In the study, researchers observed the delivery of a single rabies lesson to school children across Zomba City, the fourth largest city in Malawi. No previous rabies lessons or vaccinations had taken place in the city before the study.

The lesson was delivered by trained rabies officers to the school children in Chichewa, Malawi's national language. It included information about improving rabies prevention by immediately washing bite wounds.

Researchers found that knowledge of canine rabies prevention was greater amongst school children that had received the lesson compared to those that did not. Knowledge of the disease among the children remained high for several weeks after the lesson.

In Africa and Asia, the vast majority of rabies deaths are caused by bites from infected dogs. The disease is thought to kill around 59,000 people worldwide each year.

Children are at greater risk of contracting rabies - some 40 per cent of all human rabies death occur in children under the age of 15. Malawi is one of the most affected countries and has one of the world's highest incidences of recorded child rabies deaths.