Renowned farrier wins Sir Colin Spedding Award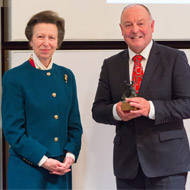 Dr Simon Curtis recognised for his contributions to the profession

Newmarket farrier Dr Simon Curtis received the Sir Colin Spedding Award at the National Equine Forum on Thursday (8 March) in recognition of his contributions to the profession.

During his 45-year career, Dr Curtis has lectured on and demonstrated farriery in 30 countries in six continents, including Australia, India, Russia, the USA and Brazil.
He has also written three textbooks on farriery, contributed to numerous journals and, in 2002, became the only farrier to be awarded an Honorary Associate by the RCVS.

Commenting on his award, Simon said that he was both surprised and delighted to have won. "I take it as a recognition that good farriery and increased farriery science is acknowledged as contributing to equine health and performance," he said.

The Sir Colin Spedding Award is presented each year to an exceptional unsung hero or heroine of the equestrian world. Introduced in 2013 in memory of Sir Colin, a leading academic and animal welfare expert, the award is open to any individual or organisation from any equestrian field, provided that their qualities have not been recognised elsewhere.

The award was presented to Dr Curtis by HRH The Princess Royal, who is president of the National Equine Forum. Previous recipients of the award include Jim Green, pioneer of equine rescue methodology and training (2017), and Sue Martin BHSII who runs Trent Park Equestrian Centre (2016).
Image (C) National Equine Forum