Two raccoon dogs rescued from same village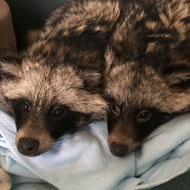 Charity believes the pair are escaped pets

The RSPCA has said it has received two separate call outs to rescue raccoon dogs from the same country village, within 24 hours.

Both animals were found in Burneside near Kendal on 17 February. One was spotted collapsed and breathing heavily under a van in the morning, while the second was found in the evening, hiding behind a bike in a garden less than half a mile away.

RSPCA inspectors said it is "very unusual" to pick up two raccoon dogs in one day. It is thought the animals are likely to be escaped pets from the same home.

Native to East Asia, the species is a wild animal but there is a growing trend for keeping them as pets in the UK.

Nicola While, the charity's senior scientific officer for exotics: "Raccoon dogs do not make good pets and we would strongly discourage anyone from buying or keeping one as a pet. They need a great deal of space and their welfare needs cannot be met in a typical domestic environment.

"Sadly, they appear to have grown in popularity as pets."

She believes this is down to their appealing looks, mistaken ideas that they are no more difficult to look after than dogs, and the fact that they can be bought online for as little as £125.

The charity says it has dealt with a number of call outs in recent years about pet raccoon dogs that have either escaped or been deliberately released. Allowing non-native species to escape or releasing them into the wild is an offence under the Wildlife and Countryside Act 1981.

RSPCA inspectors are hoping to trace the owners of the raccoon dogs found near Kendal. They are currently being cared for at a boarding centre nearby. If the owners do not come forward the charity will look for a suitable home for them. Anyone who believes they know who the owners are can contact 0300 123 8018.
Image © RSPCA