Inquiry launched into fur trade in the UK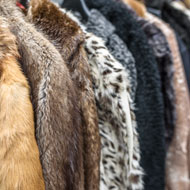 Move follows spate of retailers selling fake faux fur
The government is launching an inquiry into the UK fur trade, after a number of major retailers were found to be selling real fur labelled as 'faux fur'.

Recent investigations by the Humane Society International (HSI) revealed a string of online and high street retailers are mistakenly selling fake faux fur, which is actually made from a variety of animals including rabbit, fox and chinchilla.

Neil Parish, chair of the Environment, Food and Rural Affairs Committee (EfraCom), said: "Fur farming has been banned in the UK for 18 years, and the sale of legal fur sourced from outside the UK should be tightly regulated. Reports in recent weeks that real fur is being sold as fake fur concerns us greatly, and so we have chosen to formally inquire into the matter.

"Retailers have a duty of care to their customers who have the right to know what they are buying. Our inquiry will determine where responsibility lies for the increase in illegal fur sales, and identify the steps that need to be taken to stop it in its tracks."
Fur farming was banned in the UK in 2000 and EU regulations ban the trade in fur from domestic cats and dogs, as well as commercial seal hunts. However, the UK continues to sell and import fur from other species, including fox, mink, rabbit, coyote, raccoon dog and chinchilla.
Tesco, Boots, FatFace and Romwe are the latest in a string of retailers found to be selling mislabelled fur, according to an investigation month by HSI and the Mail On Sunday.

Laboratory tests found a 'faux fur' pom-pom key chain from Tesco's online store was actually made from rabbit fur - as was the pom-pom on a pair of chenille gloves from FatFace. Similarly, hair clips advertised as faux fur in Boots were found to be mink fur.

Another investigation by HSI and Sky News at the end of last year found T. K. Maxx, Boohoo, Amazon and Not On The High Street were also selling fake faux fur.

EfraCom is aiming to scrutinise the current fur trade and how to make the industry more transparent for consumers. It is also thought that Brexit may provide opportunities for the UK to look at fur import legislation.

The committee is seeking written submissions on the following questions:

How large is the fur trade in the UK?
How effective is the current law with regards to animal fur, and does it go far enough?
Is the legislation sufficiently enforced?
What improvement, if any, can be made to the current labelling of fur products and fake fur products, and how could these be enforced?
What improvements should be made to the regulation of the fur industry?
What opportunities does Brexit offer to change current legislation?

All written evidence (max 3,000 words) should be submitted to the inquiry page by 23 February.