Experts discuss ethics in equine practice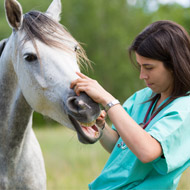 Lecture explores common issues facing modern equine practice
BEVA president Jonathan Pycock, World Horse Welfare chief executive Roly Owers, and Safia Barakzai of Equine Surgical Referrals joined a panel discussion at the SPVS/VMG conference to discuss ethics in equine welfare.

The first topic under discussion was the backdating of vaccine dates. Jonathan said that there are sometimes extenuating circumstances and each case should be looked at separately in case there were exceptional circumstances.

Roly added that 'a vet can do far more damage with a pen than with a scalpel' and went on to say that we should not be backdating. Safia pointed out that there is more pressure on vets in some practices to do this and that it is particularly difficult for assistants in these circumstances.

Next, the panel considered whether it was ethical to euthanise a young horse if there was no good health reason or the owner was unable to pay for treatment. The panel agreed that the question of affordability was a difficult one.

Rory pointed out that our primary responsibility is to give any animal a good life and a good death, and that sometimes euthanasia is a kindness if an owner cannot care for it or may pass it on to another owner where it may suffer further. It was also pointed out that if a client cannot afford treatment, then even if you carried the procedure out for free or a reduced fee, the owner would probably still not be able to pay for the aftercare.

Another common issue that arises is being asked not to record certain health issues because this may impact on future insurance claims. The panel was in agreement that if a client tells a vet about a health issue with their animal it should be recorded on their record by the vet. If a client asks the vet not to include a health issue in their animal's records the vet should not agree.

Telephone conversations were also discussed, and again the panel agreed that a telephone discussion would be considered as a clinical discussion and therefore should be part of the clinical notes.

It is clear that there are many ethical issues that equine vets have to deal with in the course of their daily work. Having debates such as this at Conference can only serve to help the vet in equine practice make the correct decisions for the circumstances they find themselves in.