Report calls for separate legislation on animal sentience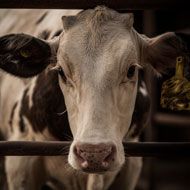 EFRA committee scrutinises Draft Animal Welfare Bill

British vets are urging the government to ensure that animal sentience legislation is enshrined in UK law before Britain leaves the European Union.

The news follows the publication of the Environment, Food and Rural Affairs Committee (EFRA) report which scrutinises the Draft Animal Welfare Bill. In the report, EFRA calls for a 'separate piece of legislation on animal sentience' that allows the 'problematic concepts on the existing Clause 1 to be better defined'.

The Draft Bill was published in response to the BVA's campaign to enshrine Article 13 of the Lisbon Treaty into UK law. This would recognise the sentience of animals and put pressure on ministers to take responsibility for animal welfare when developing and implementing certain policies.

"The veterinary profession has been a strong champion for the concept of animal sentience to be enshrined in UK law post-Brexit, and for measures to ensure the government has a duty to have regard for animal welfare in policy making," commented BVA president John Fishwick.

"EfraCom remains fully in support of the principles but has raised a number of concerns with the drafting of the legislation, which could delay its implementation. The critical issue for BVA is that these principles must be brought into UK law before we leave the EU."

He continued: "Defra has committed to maintaining animal welfare standards post-Brexit. The Government must ensure that we enshrine the principles of Article 13 in UK law before March 2019, whether through this Bill or other legislation. To fail to do this would risk weakening our global reputation for animal welfare."

The League Against Cruel Sports also responded to the publication of the EFRA Committee report, saying:

"We understand the committee's concerns about the implications of including the recognition of animal sentience in future legislation. That issue does need to be fully explored, and DEFRA's consultation may provide enough information to offer more clarity, but we'd urge the government not to back down from what is a positive step forward.

"We would have concerns that separating out the sentience clause may lead to that issue being kicked into the long grass. Animals think and feel, that that is a reality which we must address and understand if we are to be a truly compassionate society."
Neil Parish MP, chair of the EFRA committee, said: "It is important that the Government considers the full implications of a bill before publishing it. It has failed to do so in this case. The bill has been rushed and the legislation has suffered as a result.
"I am strongly in favour of the increased sentencing provisions in the Bill, but if the UK wants to set a 'gold standard' in animal welfare then the punitive measures for crimes against animals must include a greater range of offences.
"The UK urgently needs a new law focused on animal sentience but this law must be properly thought through and worked out. This legislation is not that".