Retailers urged not to stock 'glue traps'
Indiscriminate traps cause 'unacceptable suffering', charity warns

The RSPCA is urging retailers not to sell 'glue traps' to catch rodents, after a pet corn snake in Croydon became the latest victim to get stuck in strong adhesive.

RSPCA inspector Ellen Thomas was called out by a "distraught" family last week (16 January), who found the snake desperately trying to escape the trap, which is made from a piece of cardboard covered in powerful glue.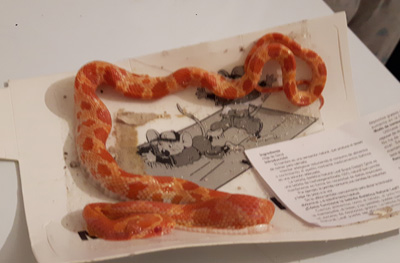 Unintended victim
"The corn snake was completely glued onto this horrible commercially-bought trap," Inspector Thomas said. "The more the poor little animal thrashed around on the sticky cardboard trying to free himself, the more stuck he became, and when I got there he couldn't move at all.

"At first glance, I feared his skin had been torn and was worried he couldn't be separated from the strong glue without a serious injury."

However, Inspector Thomas managed to free the snake "virtually unharmed", using baby oil to weaken the bond between the glue and its delicate skin and scales.

It is thought that the snake is an escaped pet that sought refuge from the cold in the family's home. Anyone with any information is asked to call the confidential appeals line on 0300 123 8018.

The family who laid the trap said they had bought it in "good faith" from a local market stall, hoping to solve a mouse problem in their kitchen. Inspector Thomas said they vowed never to use them again, having seen the suffering they can cause.
Serious welfare issues
The RSPCA said retailers should not be selling these traps to the general public as they are indiscriminate and cause unacceptable suffering. According to industry codes of practices, only trained operators should use them, but the charity has seen robins, owls and even kittens caught in them.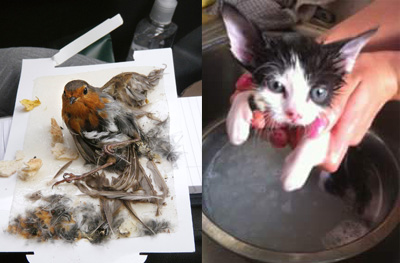 Scientific information officer, Llewelyn Lowen, said the charity is opposed to the manufacture, sale and use of all glue traps. While they may seem like a good way to catch rodents without killing them, they come with "very serious welfare issues" and cause "horrific suffering", he warned.
"Once the poor animal is stuck, they begin to struggle to free themselves, and in doing so, more and more parts of their body become trapped in the glue," he explained. "In their increasing panic and desperation to escape, rats and mice have been found to tear patches of their fur out, break bones, and even gnaw their own limbs off in a bid to be free.
"After only three to five hours, trapped animals have been found exhausted and covered in their own faeces and urine. Many animals die within the first 24 hours from starvation, dehydration, exhaustion, or even suffocation – caused by the glue blocking their nasal passages."
Furthermore, Mr Lowen said if the animal is found still alive, many people may then try to kill them using inhumane methods, while others may dump the live animal or not even check the trap at all.
Wild Animals and Glue Traps project
The charity is asking anyone who sees glue traps being sold to the public to contact them on
wildlife@rspca.org.uk
, sharing the name and address of the store, the name of the manager or owner (if known) and the date the traps were seen on sale. The RSPCA will then write to the retailer, asking them to consider stopping the sale of glue traps, removing them from stock and not re-stocking them in future.
So far, the charity said this scheme has proved successful, with many stockists taking them off the shelves. Amazon UK, for example, promptly removed such traps from sale after being contacted by the RSPCA.
Members of the public who find an animal in a glue trap are advised to take it to a vet or contact the charity for advice (0300 123 4999), as removal takes special care and experience.
Images © RSPCA