Macaques living in Florida park 'pose health threat'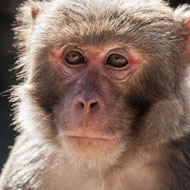 Study shows primates are shedding herpes B
Rhesus macaques living in a public park in Florida are a 'public health concern', scientists have warned, after new research found they are shedding the herpes B virus, which can be fatal to humans.

Researchers from the universities of Washington and Florida studied macaque samples collected by trappers over a 12-year period, from the Silver Springs State Park and along the Ocklawaha River. They also collected saliva and faecal samples from the free-ranging macaques in 2015-16.

According to the research paper, which is published in the Emerging Infectious Diseases journal, the average annual seroprevalence was 25 per cent in animals captured during 2000-2012. However, this is thought to be an underestimate as trappers in later years primarily targeted younger animals, which appear to have a lower seroprevalence.

Researchers said the data suggest 'a substantial proportion' of the population are likely to be carriers for macacine herpesvirus 1 (McHV-1), or herpes B.

The team also noted that there appears to be a seasonal variation, as animals only shed the virus in the autumn breeding season - a particularly stressful time as male-on-male aggression is high.

After the initial McHV-1 infection, the virus becomes latent and can reactivate during times of stress or immunosuppression. At this point, animals begin shedding the virus from oral, nasal or genital mucosa, without signs of illness. In the 2015 breeding season, 4-14 per cent of macaques were shedding the virus orally.

It is also thought that more than two different strains of the virus are circulating in the park, both of which have been seen in laboratories.

Non-native rhesus macaques were first introduced to the park in the 1930s. When the study began in 2015, there were 175 individuals living there. Boaters often feed the animals at close distances, which is likely to increase the public health threat, as the virus is typically caught through exposure to bodily fluids of infected macaques, e.g. from a bite or scratch.

Whilst McHV-1 does not cause clinical illness in macaques, around 50 per cent of infections cause fatal encephalitis in humans that are left untreated, so researchers said the pathogen 'should be considered a low-incidence, high-consequence risk, and adequate public health measures should be taken.'

Despite the potential for transmission, there have been no reports of human infections or deaths from McHV-1, caused by free-ranging animals. All recorded cases of human transmission and death from the virus have been associated with captive animals in laboratory settings.

As robust surveillance is currently lacking, researchers said further work is needed to understand the factors associated with transmission and pathogenicity, as well as the role host stress plays in human disease outcomes.