Footage released of rescued cheetahs playing football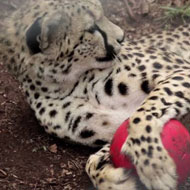 Charity releases video to mark big football events in England

Wildlife charity Born Free has released footage of rescued cheetahs playing football in Ethiopia, in honour of a big weekend for English football.

Last weekend saw a clash between Manchester City and Liverpool, whilst on Monday (8 January), the FA Cup became the first match in England to use video assistant referee (VAR).

A team of nine cheetahs can be seen having their own kick about at their sanctuary home, Born Free's Wildlife Rescue, Conservation and Education Centre near Addis Ababa, which is a vital sanctuary for hundreds of wild animals.


The big cats were rescued from the illegal wildlife trade before being brought to the centre. They were snatched from their mothers as young cubs and hand-reared, meaning they would be unable to fend for themselves in the wild. Now they enjoy lifetime care at the sanctuary's spacious natural enclosures.

Born Free is launching a 'Build a Future for Wildlife' appeal to raise funds for much needed improvements at the centre. Over 200 animals have already been rescued, including cheetahs, lions, hyenas, birds of prey and primates. Now the facilities need to be expanded and renovated to cope with growing demand.

Cheetahs are viewed as status symbols in parts of the Middle East, with some paying up to $10,000 for a single cub. Wild cheetahs are captured throughout east Africa and illegally smuggled out of Ethiopia to meet the demand. Sadly a high number die in transit and there are just over 7,000 wild cheetahs left in the whole of Africa.

Find out more and make a donation at: http://www.bornfree.org.uk/give/a-future-for-wildlife/
Image © Blake McGrow / BFF