Government plans to eliminate plastic waste by 2042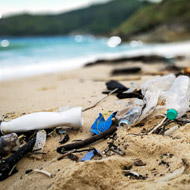 Theresa May outlines 25-year plan for the environment
Prime Minister Theresa May has announced new measures to eliminate all avoidable plastic waste by 2042.

The new measures include an extension to the 5p carrier bag charge to all retailers and work with supermarkets to encourage them to introduce plastic-free aisles. They form part of the government's 25-year plan for the environment 'to leave our environment in a better state than we found it'.

In her speech today (11 January), Theresa May said: "In years to come, I think people will be shocked at how today we allow so much plastic to be produced needlessly. This truly is one of the great environmental scourges of our time."

Mrs May outlined how the government intends to look at how the tax system or charges could further reduce the amount of plastic waste created by industry. She added that a call for evidence on how to reduce since use plastics will begin next month.

The Prime Minister also confirmed that she would be injecting new funding into plastics innovation through a bid into the government's £7 billion research and development pot.

"Today I can confirm that the UK will demonstrate global leadership," she said. "We must reduce the demand for plastic, reduce the number of plastics in circulation and improve our recycling rates. To tackle it we will take action at every stage of the production and consumption of plastic."

Since the 1950s, an estimated 8.3 billion tonnes of plastic waste is thought to have been produced. The government says that, without urgent action to cut down this demand, then it is likely to be around 34 billion tonnes by 2050.

In September 2017, some 255,000 pieces of litter were removed from UK beaches as part of the Great British Beach Clean. Figures published by the Marine Conservation Society show that much of this litter was from food and drinks items, such as plastic cups, straws and cutlery.