RUMA names new secretary general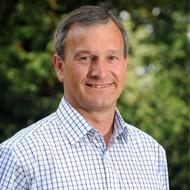 AHDB's Chris Lloyd will succeed John Fitzgerald
The
Responsible Use of Medicines in Agriculture Alliance (RUMA)

has named former AHDB director of knowledge exchange Chris Lloyd as new secretary general. He will take over from John Fitzgerald when he retires at the end of the year.

Mr Lloyd has been immersed in the livestock sector throughout his career. After graduating from Writtle Agricultural College, he spent 16 years working for the National Sheep Association holding various positions of influence across the UK.

In 1999, he was awarded a Nuffield Farming Scholarship to study the sheep industries of South Africa, Australia and New Zealand. He joined EBLEX in 2003 to deliver the Sheep and Beef Better Returns Programmes.

He later held other positions including director for knowledge exchange across all AHDB sectors and more recently led AHDB activity on antimicrobial resistance.

Mr Lloyd takes over at a time when significant progress is being made on the responsible use of antibiotics in UK farming. This includes a record low in antibiotic sales to the farming industry and the publishing of a set of demanding targets to further reduce, refine or replace antibiotic use.

Mr Fitzgerald said that he is pleased to have seen such significant progress in his last 18 months at the helm, and is handing over the reins at an exciting time.

"RUMA has transformed from more of an advisory organisation to really driving change across the main livestock sectors in terms of antibiotic use," he said. "I'm proud to have been involved at this critical time, and pleased to leave at a point when our farming industry has proved a leader in this antibiotic resistance debate."