Ground squirrels shed light on new stroke treatments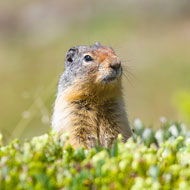 Molecule could help to protect brain cells in human stroke patients
Scientists say they have identified a potential drug that could protect the brains of ischemic stroke patients, by mimicking a cellular process that takes place in ground squirrels during hibernation.

Blood flow to the brain is dramatically reduced in ground squirrels during hibernation, yet they emerge from it without any ill effects.

In humans, ischemic strokes occur when a clot cuts off the blood flow to part of the brain, depriving cells of oxygen and nutrients such as blood sugar glucose.

Currently, the only way to limit cell death is to remove the clot as quickly as possible. Treatments to help brain cells to survive oxygen and glucose deprivation could dramatically improve outcomes for patients.

Researchers recently discovered that a cellular process known as SUMOylation goes into overdrive in a certain species of ground squirrel during hibernation. Further study confirmed the suspicion that this is how the animals' brains can survive reduced blood flow during hibernation.

"If we could only turn on the process hibernators appear to use to protect their brains, we could help protect the brain during a stroke and ultimately help people recover," said lead author Joshua Bernstock.

Francesca Bosetti, programme director at NIH's National Institute of Neurological Disorders and Stroke, added: "For decades scientists have been searching for an effective brain-protecting stroke therapy to no avail.

"If the compound identified in this study successfully reduces tissue death and improves recovery in further experiments, it could lead to new approaches for preserving brain cells after an ischemic stroke."

Scientists now plan to test whether the compound, ebselen, can protect the brains of animal models of stroke.

The findings have been publishing in the FASEB journal.