Jungle cat handed in to RSPCA hospital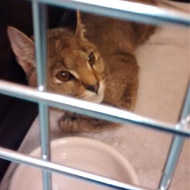 Animal thought to have been kept as an exotic pet

The RSPCA has launched an appeal for information after a sick jungle cat was handed to one of its London veterinary hospitals.

The male cat, thought to be around two years old, was handed to veterinary staff at Putney Animal Hospital on Tuesday (14 November) by an anonymous person. As soon as staff realised it was not a domestic cat, they contacted animal collection officer Jill Sanders who secured him inside a carrier.

"This was a really beautiful animal but you could tell straight away he was unusual," she explained. "He was bigger than a normal cat with very distinctive ears, and he was very frightened.

"Once I secured him in the carrier I transported him to exotic animal specialists at Heathrow, as I knew they would have the expertise to officially identify him, and care for him."

Commonly found living wild in Bangladesh, Pakistan and India, jungle cats can grow up to 110cm in length and around 130cm tall. Their long, distinctive ears have a tuft of hair at the tips and, compared to a domestic cat, their tails are relatively short.

Jungle cats are different to many cat species in that they are good swimmers and will dive into the water to catch fish. Besides rodents, they also hunt birds, amphibians, reptiles and have even been known to kill wild pigs.

The RSPCA believes the jungle cat might have been kept as an exotic pet. But as they are wild animals with very specific needs, the organisation says that it would be impossible to keep such animal in a typical household environment.

An assessment of the cat found him to be very underweight and suffering from an infection. As such, the vet decided that the kindest option would be to euthanise him to prevent further suffering.
Image (C) RSPCA