Zoo 'devastated' over lynx killing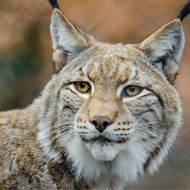 Lillith shot by marksmen on council orders

A lynx that escaped from a zoo in west Wales has been shot and killed on the orders of council officials.

Confirming the news on its website, Borth Wild Animal Kingdom said that it was 'truly devastated' and will remain closed until further notice.

Lillith escaped from her enclosure in October, reportedly by climbing some slender tree branches and making a leap for the perimeter fence.
Since her disappearance, zookeepers, expert trackers and animal recovery specialists have been working tirelessly to lure her into a bait trap. A government-appointed vet had told the zoo that darting was not possible due to the terrain.

On Friday (10 November), their search came to an abrupt end when the zoo received a call from Ceredigion County Council to say that Lillith had been found and killed. The call came just one day after she had been spotted at a local caravan park.

'We made one final effort yesterday to lay traps for her and we were out all day looking for her with catch nets, but the shocking call came in late last night that they had killed her,' the zoo explained. 'In just 24 hours they had called in marksmen who had used state-of-the-art night scopes and thermal imaging cameras to hunt her down and shoot her dead. To say we were devastated was an understatement.'

The zoo claims that when they arrived at the caravan park, a council official 'insisted' that he needed to photograph her and make a positive ID before they were allowed to trap her. Unfortunately, the official slipped whilst climbing up the bank, startling the lynx and causing her to run away.

The zoo continued to search for Lillith but was informed that, due to her being in a heavily populated area, that the council would be issuing a shoot to kill order.

In a statement, Ceredigion County Council said that it was not possible to assess the condition or temperament of the lynx. It added that there were concerns about its behavioural response if startled by a member of the public.

'It must be remembered that the lynx is classified in legislation as "dangerous and wild" and the authorities were dealing with an unmanaged escape situation,' it said.