Sharing best practices 'critical' to halt spread of ASF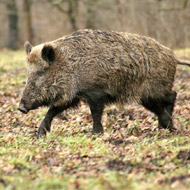 Analysis reveals disease is continuing to spread among wild boar

Food safety experts have declared that sharing best practices in fighting African swine fever (ASF) is critical to prevent the spread of the disease.

Research by the European Food Safety Authority found that the disease is continuing to spread among wild boar in the Baltic States and Poland. The experts concluded that humans have been critical in spreading the disease. For example, through the disposal of contaminated waste in wild boar habitat.

'Drastic depopulation, targeted hunting of female wild boar and carcass removal solely implemented as measures to control ASF in the wild boar population need to be implemented in a highly effective manner (at or beyond the limit of reported effectivity in wild boar management) to sustainably halt the spread of ASF,' the authors conclude.

In the study, EFSA experts helped Baltic countries and Poland analyse epidemiological data collected until September 2017. The analysis revealed that two more EU Member States - the Czech Republic and Romania - reported cases in 2017, bringing the total number of affected Member States to six.

African swine fever is a devastating disease of pigs that is spread either via direct animal contact or through contaminated food, such as sausages. In January 2014, Lithuania became the first country in the European Union to report cases in wild boar. This was followed in June and September 2014 by Latvia and Estonia respectively.

Measures to prevent the spread of ASF began after the disease was first confirmed in Brussels in June 2013. The measures included increased biosecurity and surveillance on pig farms and the use of wild boar repellents.

Findings from the study will be presented by EFSA veterinary surgeon Sofie Hollander later today (9 November) at a conference organised by the Ministry of Agriculture of the Czech Republic.
The study, 'Epidemiological analyses of African swine fever in the Baltic States and Poland', is published in the EFSA Journal.