Signs of Alzheimer's found in wild dolphins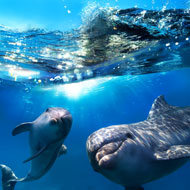 Disease may be linked to altered insulin function
Scientists say they have identified signs of Alzheimer's disease in the brains of dolphins. Their research provides the first clear evidence of the disease in a wild animal.

Published in the journal Alzheimer's and Dementia, the study suggests Alzheimer's disease and type 2 diabetes may be the cost of a longer lifespan, with altered insulin function the common cause.

Researchers studied the brains of dolphins as, like humans, they often live for a long time after fertility ends. Other animals tend to die shortly after becoming incapable of producing offspring. Dolphins used for this study had died after washing ashore on the Spanish Coast.

The team analysed plaques of a protein called beta amyloid and tangles of another protein called tau, which are the signatures of Alzheimer's disease. They believe that humans and dolphins are almost uniquely susceptible to the disease because of alterations in the way insulin works in the species.

Alterations to insulin signalling - a complex chemical cascade - can cause diabetes in people and other animals. However, previous research has found that extreme calorie restriction in some animals, such as mice and fruit flies, altered insulin signalling and extended the animals' lifespan by up to three times.

"We think that in humans, the insulin signalling has evolved to work in a way similar to that artificially produced by giving a mouse very few calories", says Professor Simon Lovestone from Oxford Health.
"That has the effect of prolonging lifespan beyond the fertile years, but it also leaves us open to diabetes and Alzheimer's disease. Previous work shows that insulin resistance predicts the development of Alzheimer's Disease in people, and people with diabetes are more likely to develop Alzheimer's.
"But our study suggests that dolphins and orcas (who also have a long post fertility life span) are similar to humans in many ways; they have an insulin signalling system that makes them an interesting model of diabetes, and now we have shown that dolphin brains show signs of Alzheimer's identical to those seen in people."
Without studying the behaviour of wild dolphins, it is not possible to say whether they experience the memory problems and confusion seen in people with Alzheimer's. However, researchers say they do not advocate testing dolphins in captivity.
Professor Lovestone hopes to use this new understanding to improve the way new drugs are tested. Currently, even in mice that have been genetically engineered to have the plaques associated with Alzheimer's, there are no tangles and little damage to brain cells. As a result, it is difficult to find new targets for curing the disease, and also to study the effects of potential new drugs.
"But if altered insulin signalling can make an animal more susceptible to Alzheimer's Disease," he added, "we might be able produce mice that are a true model of the disease, which we can then test to find new treatments."