First veterinary receptionists' association launches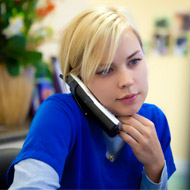 Professional body offers accreditation and training
Veterinary receptionists will now be able to join the UK's first professional body for front-of-house staff in practice.

The British Veterinary Receptionists' Association (BVRA) was set up by SPVS president Brian Faulkner, and veterinary business consultant, Kay Watson.

Mr Faulkner said: "Modern veterinary practices – which are competing in an increasing competitive, regulated and litigious environment – need veterinary receptionists who have a breadth and depth of skills and knowledge of preventive health care, triaging and prioritising the symptoms, as well as managing increasingly complex payment systems, such as direct online insurance claims and credit plans.

"However, while training exists that covers some aspects of the receptionist's role, we felt there was a need for a more 'formalised' system of training and accreditation to cover the breadth and depth of skills and knowledge needed to flourish in this crucial role in practice."

BVRA members will be able to study for bronze, silver and gold Accredited Veterinary Receptionist awards.

The association says its 'teach, task and tell' approach to the online training allows individual veterinary receptionists to show their understanding of the material, as well as sharing their opinions on how each area is working in their practice and how it could be improved.

Member benefits include:
• entitlement to refer to themselves as BVRA members
• access to CPD webinars
• discounted rates to the BVRA's CPD events and annual conference
• access to the BVRA's Accredited Veterinary Receptionist award
• access to the BVRA discussion forum

Practices can sign up for membership for a cost of £150 per annum, and add as many front-of-house employees as they wish after the first five are included for free.