Finn named 'Hero Animal of the Year'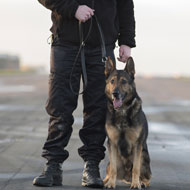 Police dog's bravery recognised after he was stabbed on duty
A police dog who was stabbed on duty last year has been named Hero Animal of the Year for his outstanding courage in the face of a crisis.

The Animal Hero Awards were held in London on Thursday (7 September), celebrating inspiring acts of bravery, dedication and resilience.

PC Dave Wardell and German shepherd Finn were on a normal shift when they were called to a suspected armed robbery in Stevenage last October. Finn caught up with the teenage suspect as he tried to escape over the wall, took hold of his leg and pulled him to the floor.

But the teen pulled out a 12-inch knife and stabbed Finn through the chest, before turning the knife on PC Wardell. However, Finn got in the way to protect his handler. Seven-year-old Finn needed four hours of surgery to save his life as the weapon had narrowly missed his heart.

PC Wardell broke down in tears as he gave evidence in court. He said: "I knew we were in mortal danger, I thought, 'he's just tried to kill my police dog and the next thing is me'. I thought 'we've got to do something about this now or we're not going home'.

"At that point I feared for my life and for Finn's life, I was expecting Finn to die in front of me. Fearing my dog would be dead before I got to the van, I scooped him up and ran to my van."
During his rehabilitation Finn sat by the door waiting for PC Wardell to come home everyday. He made an amazing recovery and was back patrolling the streets by Christmas.
His 16-year-old attacker was convicted of actual bodily harm against PC Wardell, who suffered a wound to his hand, but only criminal damage for his attack on Finn. The discrepancy in the way injured police officers and service animals are treated by the law sparked a campaign for change called Finn for Change. The government is currently reviewing the legislation.
Finn retired in March this year and is enjoying life as a pet in the Wardell family home. Retired police dogs do not always stay with their handlers, but PC Wardell said there was "never a chance" he would let Finn go.
"He means the world to me. He's like a son.
"I think I've leant on him for emotional and physical support especially after what happened, because he did save my life. I'll miss him immensely at work, but now we'll get to go away together and have lots of new adventures."


Image © Hertfordshire Constabulary