BSAVA Congress 2018 highlights revealed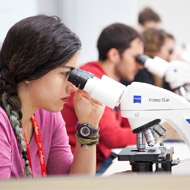 Expanded programme includes new 'Beyond the Clinics' stream

In what it claims to be the largest event in Europe dedicated to the provision of small animal veterinary CPD, the BSAVA has expanded its annual congress programme to include more than 450 lectures from world-renowned speakers, a new 'Beyond the Clinics' personal development stream, and more practical, wet lab and small group sessions.

The 'Beyond the Clinics' stream on the final day (Sunday) will provide a series of non-clinical lectures on physical and mental health, financial planning and other areas of personal development, alongside a Careers Diversity Fair – all of which will count towards CPD.

BSAVA president, John Chitty said: 'Beyond the Clinics' aims to create a vision of holistic support and encourage delegates to think more deeply about their career and personal development.

"We all live extremely busy lives and sometimes spending time on non-clinical skills or learning how to love your vocation can be secondary priorities; but if we are not functioning as people, we are not going to function as professionals," he said.

The programme will also feature a 'canine brachycephalic' stream highlighting the latest thinking and clinical advice, rounded off with an evidence-based discussion from key opinion leaders. A full social programme will be announced later this year.

Congress programme committee chair, Sue Murphy, said: "Our dedicated volunteer vets and nurses have spent more than two years planning the extensive CPD timetable, which has been designed with something of interest for everyone working in small animal practice.

"Highlights in 2018 include a dynamic range of world-class speakers hailing from the USA, Netherlands, Australia and the UK, an expanded practical and wet lab offering, and a new advanced veterinary practitioner stream for those looking to develop specialised skills and knowledge."

Angharad Belcher, head of Congress commented: "Congress 2018 will see the BSAVA continuing to innovate and provide exceptional CPD at great value for our members and the profession, hoping to top the almost 50,000 hours of CPD delivered in 2017… Delegates can gain up to 31 hours of CPD for a veterinary surgeon, or up to 30 hours for a veterinary nurse, over the four days."

BSAVA Congress 2018 runs from April 5-8 at the ICC and Arena Birmingham (formerly Barclaycard Arena); and registration will open online at www.bsavacongress.com towards the end of October.
Image (C) BSAVA