Laura Muir finishes fourth at World Athletics Championships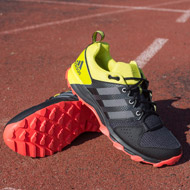 Vet student narrowly misses out on 1500m final medal
Student vet Laura Muir said she 'gave everything she could' as she finished fourth in the 1500m final at the World Athletics Championships.

Muir was on track to scoop her first global medal until she was overtaken in the last few meters by American Jenny Simpson and Caster Semenya from South Africa. The gap between Muir and bronze was a heartbreaking 0.07 seconds.

Speaking to The Guardian after the race, Muir said: "It's fourth, isn't it? I gave it everything I could but the last 50m I just tied up and they flew past me. I knew it was close. It happened so late in the race I couldn't react."

Trying to be optimistic, she added: "I'm making huge steps each time. I think there is a lot more I can do."

A student of the University of Glasgow School of Veterinary Medicine, 24-year old Laura specialises in 800m, 1500m, 3000m and 5000m races.

Earlier this year, she won the 1000m at the Muller Indoor GP in Birmingham in 2.31.93, breaking Dame Kelly Holme's British record. The achievement was also a European best and took her to second on the all-time World list for this distance.

Amongst her many achievements, Laura broke the British Record at 5000m at the GAA Miler Meet in January, followed by the European Record at 3000m in Germany.

Commenting on Laura's 1500m final on Twitter, the BVA said: "Oh @lauramuiruns ! Our hearts were in our mouths. You gave it everything. We're very proud. #iaafworlds"

The University of Glasgow also tweeted saying: So proud of you @lauramuiruns you gave that everything. So close to a medal #London2017 #TeamUofG.

Laura will return to the championships on Thursday for the heats of the 5,000, race.