Increase in captive elephants kept in cruel conditions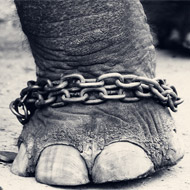 Report shows trend for elephant rides is growing

The rise in wildlife tourism has led to a huge increase in the number of elephants being kept in cruel and unacceptable conditions, according to a new report.

Published by World Animal Protection (WAP), the Taken for a Ride report found there has been a 30 per cent increase in the number of captive elephants in Thailand in just five years.

The study of some 3000 captive elephants found that three out of four are living in poor and unacceptable conditions. When not giving rides or performing, the elephants were bound to chains less than 3m long and kept on concrete floors close to loud music, crowds and roads.

"The cruel trend of elephants used for rides and shows is growing," Dr Jan Schmidt-Burbach, global wildlife and veterinary advisor at World Animal Protection explains. "We want tourists to know that many of these elephants are taken from their mothers as babies, forced to endure harsh training and suffer poor living conditions throughout their life.

"There is an urgent need for tourist education and regulation of wildlife tourist attractions worldwide. Venues that offer tourists a chance to watch elephants in genuine sanctuaries are beacons of hope that can encourage the urgently-needed shift in the captive elephant tourism industry."

Carried out between 2014 and 2016, the WAP report surveyed venues in Thailand, Laos, Cambodia, Nepal, Sri Lanka and India.

Following an inspection of 220 venues housing a total of 2,923 elephants, only 194 elephants were found to be living in high welfare captive conditions. At these venues, there were no rides or performances and the elephants walked free during most of the day.
Image (C) Vinoth Chandar/Wikimedia Commons