Vets debate pros and cons of corporatisation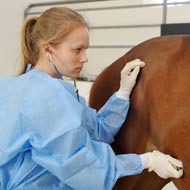 Session takes place at BEVA Congress
The pros and cons of the growing trend of corporatisation of equine practices will be debated at this year's BEVA Congress.

Conducted in a Moral Maze style, the session takes place on Friday 15 September with panellists and witnesses arguing for and against the viewpoint 'Corporatisation is inevitable and will benefit vets and their clients'.

The argument for corporatisation is that, besides the obvious commercial and business advantages, their scale and diversity can give vets greater potential for a more flexible career path and advancement within the industry.

But those against corporatisation say that it removes any opportunity to buy into ownership and it reduces decision-making ability because of adherence to corporate procedures. They also claim that corporatisation brings extra paperwork and longer approval processes.

The Moral Maze style of debate follows the format of the popular Radio 4 discussion programme. Moderated by Dr Madeleine Campbell, a recognised specialist in Animal Welfare Science, Keith Chandler and Karl Holliman will argue for corporatisation while Andrew Harrison and Tim Greet will be against. They will call upon a series of 'witnesses' for detailed questioning before debating the topic more broadly.

"The auditorium is usually full to bursting for our Moral Maze sessions because they bring a broader and more engaging dimension to important topics," said David Mountford, chief executive of BEVA. "The statement Corporatisation of equine practices is inevitable and will benefit vets and their clients is bound to generate some stimulating and possibly heated debate."

BEVA Congress is Europe's largest equine veterinary conference. This year it takes place at Liverpool Arena Convention Centre from 13-16 September and includes an exciting line-up of 'big cheese' speakers, extensive CPD quality science and novel demonstrations. To find out more, visit www.beva.org.uk.