Rescue pony helps unwell and disabled children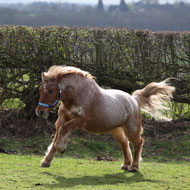 Dillon has a 'magic touch' with patients
A rescue pony who was once used for vaccine research has now helped hundreds of unwell and disabled children through his therapy work.

Dillon, a 24-year-old chestnut pony, was rehomed by paediatric chiropractor Alison Ramseier nearly 16 years ago when she realised he had a 'magic touch' with her young patients. She was later inspired to set up a riding school for children with disabilities and special needs.

"I had treated a few kids with disabilities and they couldn't raise their hand, but the second they walked past Dillon's stable, which was next to the chiropractic room, they would be able to. That's when I first started to think about equine therapy."

Dillon later became an annual celebrity visitor at Worcester Children's Hospital, where he helped Santa deliver presents.

Alison says: "During his visits all sorts of children would come out – those excited and happy, and those wheelchair-bound, drips in arms and possibly experiencing their last Christmas. Dillon gave his all to every one of these kids. He was sometimes a little worried by the machinery, but he understood his job and still offered kisses and cuddles, bringing a smile to their face at Christmas, and a tear to all those watching."

Now at the age of 24, Dillon no longer does hospital visits as he find travelling difficult, but he continues to help children at the Staffordshire equine therapy centre he calls home. With his companion, fellow Blue Cross pony Sky, he does therapeutic and sensory work with children who have more advanced disabilities. Therapy work may include children feeling and grooming the ponies, to working with those on the autistic spectrum who are ready to take on more responsibility, such as helping with mucking out and handling the ponies.

"We have kids that can't walk very well, but the movement in the pelvis that horse riding can bring means they build up strength, developing their core and finding their centre of balance," Alison adds. "The movement, as well as the contact with the horse, also stimulates oxytocin (a hormone alleviating anxiety) in the brain which will also calm children."

One patient's hospital consultant praised the therapy, saying it had been of "huge benefit to overall tone and core stability" and demonstrated how equine therapy could help with coordination and balance problems.

Commenting on the impact Dillon has had, Sally Forskett, horse welfare coordinator at Blue Cross, said: "It has been lovely to see the difference he has made to so many children's lives. We are very pleased that Alison has agreed to take ownership of Dillon and he will stay with her for the rest of his days continuing to help children."

When Dillon and Sky are not working with children they act as 'grandma and grandad' to the younger ponies at Alison's stables, who are now in training to carry out therapy work.
Image courtesy of Blue Cross