Rare 'lefty' snails produce first offspring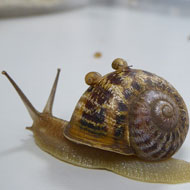 Lefty and Tomeu were brought together by a public appeal

Two rare snails with left-coiling shells have produced their first offspring after being brought together by a public appeal.

Dr Angus Davison of the University of Nottingham wanted to find a mate for 'lefty' snail Jeremy, to see if genetics offered a clue to body asymmetry in other animals, including humans.

Two potential mates were identified after a public appeal on BBC Radio 4's Today Programme. Lefty was found by a snail enthusiast in Ipswich and Tomeu a snail farmer in Majorca.

However, Lefty and Tomeu decided to mate with each other rather than Jeremy, and produced three clutches of eggs. Dr Davison was interested to see whether the babies would inherit their parents' left-coiling shells, but all of the 170 babies have the more common right-coiling shell.

Dr Davison said: "Despite not being able to mate our original, sinistral snail Jeremy, we have still been able to answer the question of which direction the shells would coil in offspring from two of these rare left-coiling variants. Was it a chance event that made these snails develop as mirror images, or is it inherited?"

The babies may have developed right-coiling shells because the mother carries both dominant and recessive versions of the genes that are responsible for shell coiling direction, he explained. Only the mother's genes determine the direction of the shell's twist, therefore: "It's far more likely that we will get to see left-coiling babies produced in the next generation or even the generation after that," Dr Davison added.

Two more batches of eggs are due to hatch shortly and Lefty has now returned to Ipswich. However, Dr Davison remains hopeful that he will be able to mate Jeremy and Tomeu, and then the resulting offspring from a combination of pairings.

Last year, Dr Davison and university colleagues in the US, Germany and Edinburgh found the gene that determines whether a snail's shell twists clockwise or anti-clockwise.

The same gene also affects body symmetry in other animals, including humans. Scientists say this research could improve our understanding of how organs are placed and why this sometimes goes wrong when some or all major internal organs are reversed from their normal placement.
Image courtesy of the University of Nottingham