Five arrests for illegal fishing in Liberia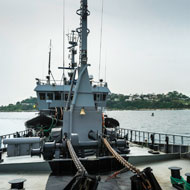 Sea patrol operation tackles IUU fishing

A three-month operation to curb illegal fishing in Liberia has come to a close after successfully arresting five vessels.

'Operation Sola Stella' was a joint initiative by the non-profit organisation, Sea Shepherd Global, and the Liberian Ministry of National Defence.

Developing countries are particularly vulnerable to illegal, unreported and unregulated (IUU) fishing, which accounts for 40 per cent of fish caught in West African waters. Prior to Operation Sola Stella, the artisanal fishing community in Harper, a Liberian town, complained of almost daily illegal fishing by foreign industrial trawlers.

The Honourable Minister Brownie Samukai said: "The Liberian Coast Guard answered the call of Liberia's artisanal fishermen, by partnering with Sea Shepherd Global to take back our seas from the poachers.

"With the arrest of five vessels, we have sent a clear message: if you come to Liberia to fish illegally, then you will be arrested."

Sea Shepherd's vessel 'MY Bob Barker' patrolled Liberia's coastline with 10 Liberian coast guard sailors on board, who had the authority to board, inspect and arrest ships that were in violation of the law.

Vessels were arrested for a variety of violations including fishing without a licence, IUU fishing, identity fraud, illegal transshipment, attempted bribery of a law enforcement officer and failure to use turtle excluder devices to prevent bycatch.

Campaign leader Peter Hammarstedt said that in the last month of patrolling, Sea Shepherd did not discover any IUU fishing activity, suggesting law enforcement at sea acted as a deterrent.

As well as helping Liberia to crack down on IUU fishing, the operation also protected the six nautical miles closest to shore, which are reserved for subsistence, artisanal and semi-artisanal fishing, which employ around 33,000 Liberians.
Image courtesy of Sea Shepherd Global