Cats Protection turns 90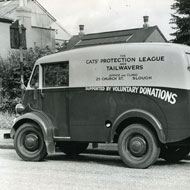 Charity celebrates helping over 4m cats
Cats Protection is celebrating its 90th birthday this month by looking back at some of its key animal welfare achievements over the past nine decades, during which time it has helped around 4.5 million cats.

The charity was founded by Jessey Wade in 1927 and has since worked tirelessly to lobby for changes to animal welfare laws. It also opened the UK's largest cat adoption centre.

Chief executive Peter Hepburn said: "We've come a long way from our humble beginnings in 1927, from a time when cats were regarded as pests to the more compassionate society we live in today. Cats Protection's work over those years has played a major role in these changes in society.

"This is the ideal opportunity to celebrate the achievements we have made over the years and to thank everyone, including our dedicated volunteers, supporters and staff, for all they've done to further feline welfare in the UK.

"The people in the charity over those 90 years have made this superb organisation what it is today and we look forward to taking that heritage forward to help the cats who need us in the years to come."

Some of the charity's milestones include:
1927 – Cats Protection was founded by Jessey Wade
1935 – Cats Protection gained its first designated headquarters, in Slough
1940 – With the outbreak of war, the Tailwavers Scheme was introduced to help relieve suffering among cats in the blitzed-out areas
1949 – Cats Protection formally began to champion neutering to control cat numbers
1963 – Cats Protection successfully campaigned for cat boarding establishments to become subject to stricter licensing
1977 – The charity reached over 10,000 supporters
1978 – Cats Protection moved to a new headquarters in Horsham
1990 – Cats Protection published its first teaching pack for use in schools
1994 – Cats Protection introduced microchipping into all its shelters
2004 – The charity's headquarters moved to Chelwood Gate in Sussex alongside the UK's largest cat adoption centre
2006-2011 – Cats Protection helped one million cats in five years
2015 – Cats Protection launched the first Manifesto for Cats
2017 – The charity celebrates 90 years in action

The charity now helps around 190,000 cats and kittens a year through its 250 volunteer-run branches and 34 centres. This includes finding new homes for around 43,000 cats a year.
Image courtesy of Cats Protection