Vets to debate whether pets can fit into modern life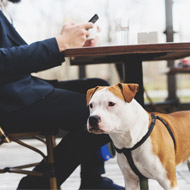 Discussion Forum will explore challenging welfare issues

Vets and animal welfare organisations are set to gather in London next month to debate whether our fast-paced world is compatible with pet ownership.

The Animal Welfare Foundation Discussion Forum (5 June) is expected to attract delegates from an array of fields and presents the chance to discuss and share knowledge on challenging welfare issues.

This year, a three-strong panel of experts will explore how the increase in urban living is impacting pet welfare, including the issue of separation anxiety and whether modern pets are less able to fulfil their welfare needs.

The panel includes BVA president Gudrun Ravetz, International Cat Care's Dr Sarah Ellis and Dogs Trust's head of canine behaviour, Dr Rachel Casey.

RSPCA chief veterinary officer James Yeates, who will introduce the discussion, commented: "Vets often deal with immediate, specific issues as they are presented, but we can also use our knowledge and experience to look at the bigger questions. I am definitely not saying pets are incompatible with modern life, but there are aspects of modern life that create challenges for me and other pet owners."

The Discussion Forum will also be holding a session exploring the relationship between vets and horse welfare and will introduce a new 'On the Pulse' discussion to debate a topical issue. Furthermore, delegates will have the opportunity to hear about the work of AWF and how the organisation turns donations into actions for animal welfare.

"We're proud of AWF's commitment to finding practical solutions to the welfare problems of all animals," said Chris Laurence, AWF chair of trustees.
"Education and discussion are key to our work and we invite all those interested in improving animal welfare to join the debate this year. With its emphasis on audience participation I'm sure that delegates will leave this unique event inspired to do what they can to bring about positive change."

A limited number of tickets for the AWF Discussion Forum are still available, which includes an exclusive drinks reception on the evening of 5 June. For more information visit www.bva-awf.org.uk.