Leading vets to debate horse welfare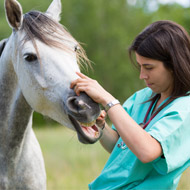 Session will explore relationship between vets and horses

A debate on horse welfare will take place at the annual Animal Welfare Foundation (AWF) Discussion Forum in June.

In the session 'Are vets failing our horses,' leading vets and horse welfare organisations will explore the relationship between vets and horses, looking at where to draw the line between treatment and prolonging life.
During the session, the speakers will also assess the impact of performance enhancement on horse welfare.

Chaired by AWF Trustee Ben Mayes, speakers for the session include Roly Owers, World Horse Welfare, Lesley Barwise-Munro, Alnorthumbria Vet Group, and Tim Greet, Rossdales Veterinary Surgeons.

Commenting on the session, Roly Owers said: "There are around one million horses in the UK, however, we believe many don't receive appropriate veterinary care.

"I think this discussion is important because, as a profession, vets haven't always been the best at openly debating these type of issues, however, it's becoming ever more important to do so, not least with the evolution of social media. Vets don't 'own' animal welfare, but play a fundamental role in helping to achieve and maintain it."

The AWF Discussion Forum draws delegates from a wide array of fields and offers the chance to discuss and share knowledge on challenging welfare issues. This year, the Discussion Forum will also look at whether modern life is incompatible with pet ownership and introduce a new 'On the Pulse' session to debate a topical issue.

"We're proud of AWF's commitment to finding practical solutions to the welfare problems of all animals," said Chris Lawrence, AWF chair of trustees. "Education and discussion are key to our work and we invite all those interested in improving animal welfare to join the debate at the Forum this year".

Gudrun Ravetz, president of the BVA, added: "Year-on-year, this is an exceptional conference that examines important issues for animal welfare. As outlined in our Animal welfare strategy, and agreed by BVA members, vets have a unique role to play in advocating animal welfare at all levels, so I would encourage as many people as possible to attend, hear from the experts and contribute to these influential discussions."

The Discussion Forum takes place at One Great George Street, London on 5 June 2017. For more information or tickets, visit bva-awf.org.uk.