Researchers call for control of raccoon dogs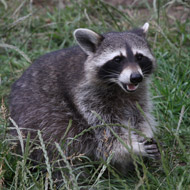 Study reveals species is a vector for zoonotic disease

The raccoon dog represents a greater risk than the raccoon as a vector for zoonotic diseases, according to new research.

The study, published in the journal Parasitology Research, found that raccoon dogs carry a host of zoonotic parasites, including the fox tapeworm and the trematode Alama alata.

"The raccoon dog is therefore clearly an indicator of fox-type parasites and should be controlled regularly," the researchers conclude.

Raccoons and raccoon dogs, which are endemic to North America and the Far East, are similar in appearance. However, they are not as closely related as the raccoon dog is to the fox.

Researchers say this makes the raccoon dog a risk as an additional vector of disease - such as the fox tapeworm. However, the raccoon can also transmit human-relevant parasites, like the racoon roundworm.

In the study, researchers from Vetmeduni Vienna analysed samples from Austrian animals in the laboratory looking for parasitic pathogens. They sought to discover whether the animals can contribute or are already contributing to an increased spread of local parasites.

The study revealed that the racoon currently represents a lower risk than the raccoon dog. "We have so far not discovered any parasites in the raccoon samples," explained senior author Georg Dusher of the Institute of Parasitology.

First author Tanja Duscher from the Research institute of Wildlife Ecology explained that the abundance of racoons and raccoon dogs in Austria remains relatively low in comparison to Germany and northern Europe.
She added that a species distribution model for the two animals could help to support epidemiological monitoring.

While racoons have been given a clean bill of health, the authors say that the mixing of the populations leads to parasitic transmission and could make raccoons more relevant in the future.

Image (C) Andreas Duscher