BSAVA awards cutting edge research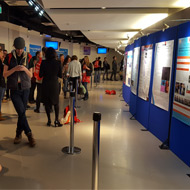 2016 clinical abstract award winners receive their prizes

BSAVA Congress delegates gathered in the foyer of the Barclaycard Arena, Birmingham, this afternoon (7 April) for the annual clinical abstract and poster presentation.

Following congress, BSAVA awards a prize to the best Clinical Abstract presentation in a variety of categories. The winners receive their prize at the following year's Congress.
Russell Kenton won the Medical Award for his study of the shock index in cats with hypoperfusion. Russell, who graduated from the RVC in 2014, completed the project during his internship at Langford Veterinary Services. He is currently studying for his PhD in Molecular Immunology at the University of Bristol.

RVC graduate Rhiannon Strickland took home the Surgery Award for a study of post-attenuation neurological signs in dogs with congenital portosystemic shunts. After two years of mixed practice in Cornwall, Rhiannon undertook a small animal clinical training scholarship at the Queen Mother Hospital for Animals.

Christopher Little, a small animal clinician, won the Practitioner Award for his investigation into cats presenting with dyspnoea. Christopher has an RCVS diploma in veterinary cardiology and also has a PhD from the University of Bristol.

Small animal vet Madeleine Totham received the Poster Award for her survey on the awareness and approach towards feline injection site sarcomas. She was awarded the ISFM prize for Feline Medicine for her project on feline injection-site sarcomas on which her poster was based.

Each winner was presented with their certificate and a £300 prize. To read the full abstracts visit http://www.bsavacongress.com/Programme/Clinical-Abstracts.