"Ladies and gentlemen we can rebuild him"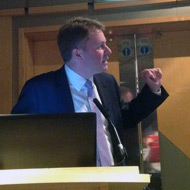 The impact of science and technology on orthopaedics
In a lively and highly informative presentation at the BSAVA Congress in Birmingham today, Professor John Innes, who is UK referral director for the CVS Chestergates practice, dealt with the subject of the future of veterinary orthopaedics in the light of technological advances.

In an oblique reference to Channel 4's Super Vet programme, John said: "We are all 'supervets'". He pointed out to his audience that it is comparatively easy to keep up to date if you are an expert in an "ivory tower" studying a fairly narrow subject. But vets in practice have to be mindful of techniques and developments across all fields of veterinary medicine and surgery, which is no mean feat.

Although the dramatic activities of 'bionic vet', Noel Fitzpatrick may make "good TV", they have a relatively low impact because they involve time-consuming and costly procedures that can, as a consequence, only be applied to a small number of patients. Much greater impacts can be achieved by utilising other technologies and developments.

He emphasised the potential being offered in orthopaedics by the unravelling of the canine genome. There are already tests available that help predict susceptibility to hip dysplasia and genomics is an area of exponential development whereby inappropriate breeding can be avoided.

There are Apps available on smartphones which slow down videos of movement and gait in order to permit better diagnosis of lameness in dogs. There are also programs that operate 3-directional accelerometry and GPS can be used to track the extent of dogs' voluntary exercise.

Stereolithography is an advancing science; and CT scanning, in conjunction with 3-D printing, helps in the remodelling of deformed and injured bones. Selective laser melting can be used to build up a porous structure in titanium around which new bone can form. This porosity also facilitates the infiltration of blood vessels to provide nutrition for the developing bone.

About 1 in 5 dogs in the UK have osteoarthritis. Although non-steroidal anti-inflammatories (NSAIDs) provide a degree of analgesia, there are unwanted side effects and so-called 'breakthroughs' in the pain relief achieved. John described EP4 prostaglandin inhibitors and nerve growth factor (NGF) inhibitors, which are two agents "on the horizon" that will help to block pain via different pathways. The latter may well represent a paradigm shift in the management of pain in cats.

Long-acting local anaesthetics are now available and will soon be available to the UK veterinary profession.

John ended his session with a cautionary note. "Not all technology is going to be better, so we need to be careful and make progress in incremental steps", he said.